Mountain Dragon by Bradley Clemmons


Vol. I: $21.95 - Vol. II: $17.95
Two Volume Set: $37.95

A NEW MYTH OF THE ENLIGHTENED FEMININE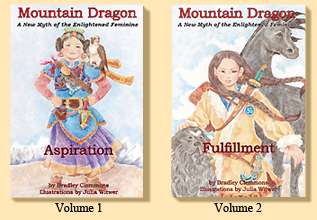 This riveting two volume saga spans lifetimes, weaving spirituality, magic, and the bonds of love and karma. In the opening volume entitled Mountain Dragon: Aspiration, we meet our heroine and the reader is propelled with her on a journey of mastery and enlightenment. Volume II entitled Mountain Dragon: Fulfillment, continues the gripping story with an older, wiser heroine.
Mountain Dragon: Aspiration
A dark, evil force, able to strike with overwhelming power has descended into the western deserts of the Middle kingdom. With one blow he has shattered the political hopes of two nations. One little child survives, a child who has the potential and who will one day have the strength to make all the warring factions of this region stop and take notice.
"Sometimes peace can come in the most ambitious of packages. "Mountain Dragon: A new Myth of the Enlightened Feminine: Aspiration" is a read telling of a far off land where war has consumed the land and one young girl must stand against the fierce fires of war to bring about peace. With much thought in mythology and legend, "mountain Dragon" is a fascinating and highly recommended read." Midwest Book Review

Mountain Dragon: Fullfilment
Thrust back into the world by the most terrifying of circumstances, the brutal murder of her beloved teacher before her very eyes, a young spiritual adept must deal with the intentions of friend and foe alike. In front of her are the challenges of the rugged mountains, the vastness of the Tibetan plateau and the great desert beyond. Her destiny lies in the Middle Kingdom far to the east which is being torn apart by lawlessness from within and threatened by foreign enemies from without. Does this young sorceress have the key and the knowledge to stem the tide of anarchy? Will anyone listen to her? And what is the mysterious gift she bears? The Mountain Dragon saga continues. Gone are the halcyon days of study and practice. Join Chen-ma as she must face down bandits, sorcerers, the Imperial army, thugs and Kung Fu masters to fulfill her mission.
"...You have a long, difficult journey ahead. Today you gave in to fear and panic. This more than anything weakened you and sapped your energy. On this journey you will need to remain balanced and focused as you are in meditation, no matter what you are doing or what might be happening to you. Until you can transmute the five great emotions into the five Buddha Wisdoms you will have to control your emotionality. Giving in to emotions is a luxury you cannot afford...."Master, are there people who wish me harm?"...There are people who wish you harm and also those who only wish you well. Both, however, will try to dissuade you from your task and your goal. Be wary and watchful and do not tarry long in any one place. It will be a great tragedy if you abandon this task I have given you..."

About Bradley Clemmons

Bradley Clemmons has been a student and lay practitioner of Tibetan Buddhism for over 35 years. He and his wife live in northern California.

Purchasing, reading, gifting and reviewing this book where it is sold helps broaden its presence in the world and generates royalties that benefit our Sangha.
If you want to preview the first few pages of Mountain Dragon, click here.
Copyright © 2017 Nyingma Trust. All Rights Reserved